If you have a business on Google, you may want to claim your business profile. If not, you can request management for one. In this process, you must fill in the business name, category, and address, and enter a valid email address. Make sure to keep the business name and category the same as the one on your official website. It is not allowed to add keywords or make up your own business name, which is against Google guidelines.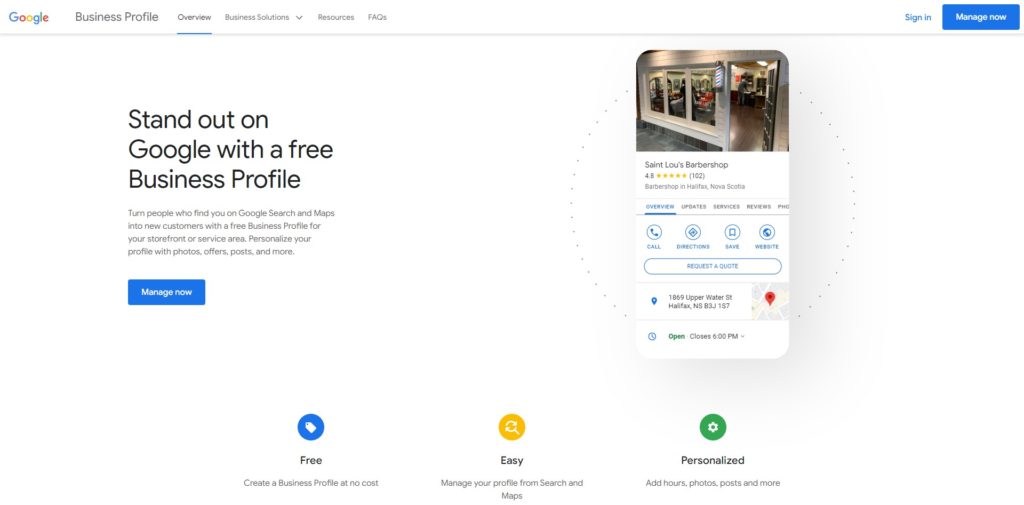 Benefits of claiming your Google Business Profile
Claim your Google Business Profile and improve your business' visibility on Google. A Google business listing provides information for customers about your business and gives you the opportunity to customize the experience for them. It is one of the most popular listings on the internet, typically right below Google Ads. By optimizing your profile, you can easily update its details and manage operations. There are a few advantages to claiming your business profile, and we will outline them below.
Claiming your Google Business Profile can help you get listed in local search results. Your listing will appear in the local 3-pack for your chosen keyword phrases. This can drive traffic and generate caller interest. It also helps you establish a presence on Google Maps. The company feeds Maps with data from your GMB listing, so if someone is searching for your business on Google, they should see your listings.
Another advantage to claiming your Google Business Profile is that you will receive notifications for new reviews and photos. If you have a verified profile, you'll be notified through email when a customer or prospect leaves a review. The same goes for the performance of your photos. You'll be notified via email whenever your photos receive more views and customers.
Another advantage to claiming your Google business profile is improved search engine visibility. Customers can use the information in Google search results to contact your business. Claiming your Google business profile will also help you improve customer satisfaction. It's important to keep your business profile up-to-date and accurate. If you don't claim your business, you won't receive the traffic you need. So, claim your Google Business Profile today and start reaping the benefits!
Getting feedback on your Google Business Profile is another benefit. It helps you understand your strengths and weaknesses. Positive reviews will show you what aspects of your business resonate with your customers. Positive reviews can help you pinpoint which employees are making clients happy. On the other hand, negative reviews can give you valuable insights into areas of your business that need improvement. In these cases, responding to negative reviews will show dissatisfied clients that you are genuinely concerned about their concerns.
Getting reviews
To get more reviews for your Google business profile, you need to know the best way to ask for them. Google has a policy wherein only your customers and those who leave reviews must have a Google account. Once you have gotten the approval, you can approach your customers and request for reviews. When sending out requests for reviews, try to be as friendly and courteous as possible. Then, send your customers a link that they can click on to leave a review.
Email marketing is an effective way to get more reviews for your Google business profile. If you have a website, send email marketing that asks customers to leave reviews. Include links to Google reviews in the email so that future customers can easily leave their own reviews. You can also send out promotional emails that ask for reviews. Make the process as simple as possible for your customers. In fact, 86% of consumers are willing to leave a review if they are happy with the services or products they've received.
If you're struggling to get reviews, you can use an online platform like Weave to collect and monitor your reviews. With a free trial, you can set a goal for how many reviews you'd like to get. If you're able to get five or ten reviews, then you've achieved an important milestone for your business. Once you've reached that milestone, make a list of potential customers. Ask regular customers to leave reviews. Make a reminder to ask them.
Get more reviews by interacting with your customers. Your customers need to feel that you care about their feedback. If you have a positive review on your business, your customers will trust you more. It's also important to respond to previous reviews on your Google business profile. In addition to responding to previous reviews, you can share the link of your Google business profile with other people. It's also beneficial to share the link with your customers so that you can get more reviews.
Responding to negative reviews on Google Business Profile
One way to respond to reviews on Google is to open the Google Business Profile app. First, go to your business's location. From there, click on Reviews. This will bring up all the reviews written about your business, including positive and negative ones. You can also see them by searching for your business on Google. Then, choose the star rating that best fits your business and type a response. Be sure to make your response short and to the point.
A good response to a negative review will acknowledge that the customer was frustrated and that their treatment was not acceptable. It should also identify the scenario as an isolated incident and provide compensation in some way. You can mention that the review is "concerning the details" in your response. However, do not reproduce the exact details of the review in the response, as this may be detrimental to your reputation. Instead, focus on addressing the problem with a solution.
To respond to negative reviews on Google Business Profile, you can use a tool called Review Snippets. This feature highlights reviews on Google Business Profile and shows what words are commonly used in the reviews. You can also use the app to display additional information on your location. As a result, your Business Profile will look more appealing to searchers. But remember that Google Business Profile reviews are more important than other review sites.
While there is nothing wrong with responding to negative reviews on Google, it's important to remember that these are often the most difficult to respond to. Even if your business is perfect, there will be some negative reviews. You can use these reviews as opportunities to turn a negative into a positive by proactively seeking reviews. You'll want to do this within 24 hours. If you're unable to get to the customer within this timeframe, your business may end up being disregarded by the consumer.
If a reviewer is flagged, it's best to respond via email or phone. If you're unable to reach the customer on the phone, consider setting up notifications or alerts to know when reviews are posted. This way, you can take immediate action if necessary. And remember that Google does not delete reviews unless they violate their terms. If the review is fake, you can always try to reach out and resolve it through the proper channels.
Setting up a Google account
A Google Business Profile is your business's online presence, which enables potential customers to contact you with ease. It is completely free to create, and there are a number of advantages. For instance, you can post information publicly about a business' products or events, or share general information about your business with the world. In addition, you can post photos, videos, and other visual elements such as your business logo and a short description of your services.
When prospective customers conduct a search for your business, they'll find you more easily. This likely results in a higher transaction value. In fact, 18 percent of local searches result in a purchase the same day. Adding a Google Business Profile will increase your chances of converting that 18 percent of people to customers. Google analyzes search data to determine what businesses will rank highly for a particular keyword, so you'll want to make your listing as detailed as possible.
Once you've created a Google Business Profile, you'll be able to add your business details, including your hours and location. Then, you can enable messaging, add a video or photo, and add an address. Lastly, you can include photos of your business location or logo. Make sure to update your Google Business Profile on a regular basis, and use this opportunity to promote your business. While setting up a Google Business Profile is a simple process, you should be prepared to spend a considerable amount of time creating it.
A Google Business Profile is free to create, and it's important to keep your information up to date. It's best to maintain it regularly and respond quickly to any reviews posted by customers. However, make sure you stay on top of it, and follow the directions carefully to avoid any mistakes or blunders. After completing your Google Business Profile, you'll be amazed at how easy it is to get your business listed in Google's search results.
Next, you must verify that you own the business. In some cases, this process can be completed through the Google Search Console, but most first-time businesses will have to wait for a postcard that contains a verification code. In this case, you should wait two weeks before you can change your information. If your company doesn't have a physical address, you can do the verification via phone. If you have a physical address, you'll receive a postcard in the mail.